Data for Black Lives Statement in Solidarity with Palestine 🇵🇸
Data for Black Lives stands in solidarity with the Palestinian people in their struggle for freedom and self-determination.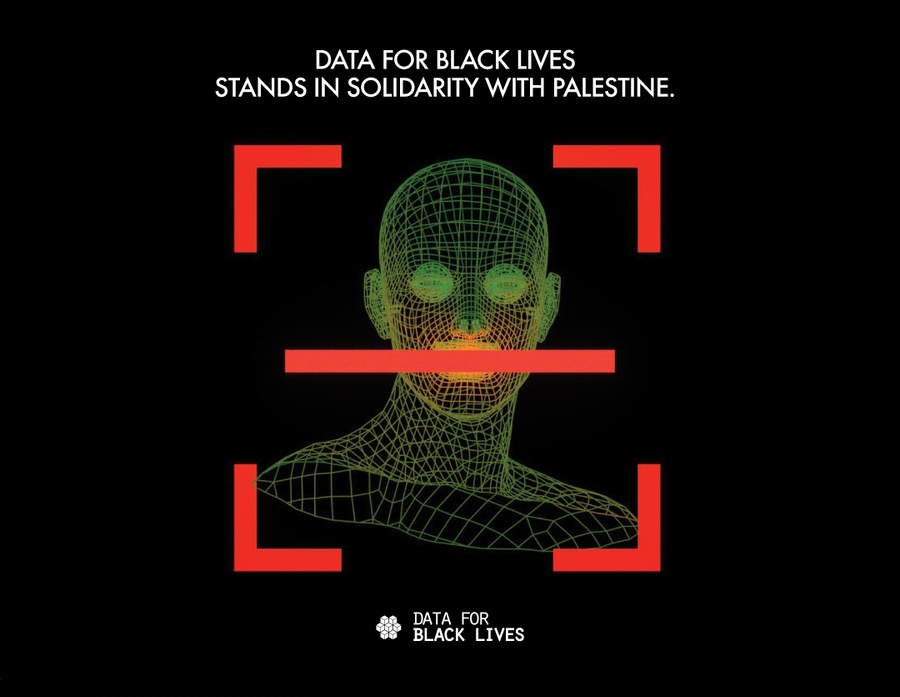 We at Data for Black Lives stand in solidarity with the Palestinian people and demand an end to Israeli Apartheid.
Data for Black Lives is appalled by Israel's systematic practices of dispossession of Palestinians, forcible separation, marginalization, state violence and ethnic cleansing, which collectively amount to apartheid and crimes against humanity. We stand in solidarity with the Palestinian people in their struggle for freedom and self-determination. Our solidarity stems from the belief that Black and Palestinian liberations are not only similar but are also intrinsically connected and view this letter as a declaration of our determination towards collective liberation.
Black and Palestine Historical Solidarity
We join an established tradition of reciprocal support and solidarity between Palestine and US-based Black liberation movements, beginning in the popular uprisings of the 1960s when African Americans rose up against violence and racism perpetuated against them by the state. In 1964, Malcom X became one of the first advocates of Black and Palestinian solidarity when he met with the then recently established Palestine Liberation Organization (PLO) and penned an essay titled Zionist Logic. In the essay, he draws direct parallels between the violence of the American and Israeli governments and their oppression of Black and Palestinian people.
The very first U.S. workers' movement to support the Palestinian struggle was the Detroit-based League of Revolutionary Black Workers. In 1973, they helped recently immigrated Arab workers form an Arab Workers' Caucus in order to challenge racial discrimination in the auto factories and the United Auto Workers Union. Together they successfully pushed their union to divest from Israeli state bonds.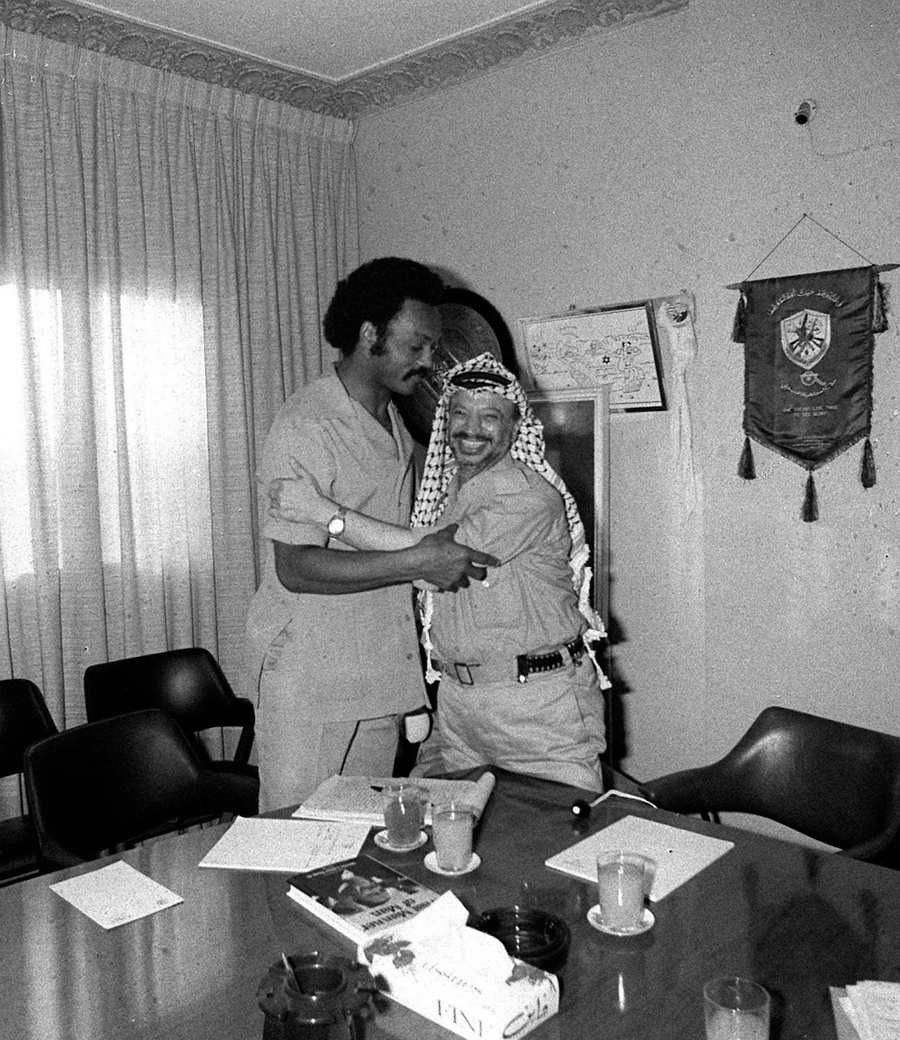 In 1979, Reverend Jesse Jackson led a delegation of Black activists to the Israeli-occupied city of Nablus in order to meet with Palestinian leaders and learn about the American-backed occupation. In 1988, during the height of the First Intifada, the then Presidential candidate Jesse Jackson worked with the Arab Institute to pass resolutions advocating for a two-state solution, which he endorsed at 11 state Democratic Conventions. To this day, Reverend Jesse Jackson is considered one of the first and most influential American politicians to bring the occupation of Palestine to the political arena. As he stated in 1985, "We understand life under occupation because we've been occupied."
Palestinians have also extended solidarity with Black Americans. This transnational cooperation, which began in the 1960s, saw a resurgence in 2014, during Israel's assault on Gaza which coincided with the popular uprising in Ferguson, Missouri, following the police killing of teenager Michael Brown. The hashtag #Palestine2Ferguson emerged as an expression of solidarity between those being bombed in Gaza and those being arrested and tear gassed in Ferguson. The result was a renewed sense of intersecting oppressions that unveiled the commonalities between the two groups — such as joint training between police departments in the U.S and the Israeli military and their recycling and exchange of deadly weapons that kill Palestinians in the occupied territories and Black people in the U.S.
Palestinian solidarity with African Americans continues to this day: Last summer, in May 2020 during the height of the popular uprising and police retaliation following the death of George Floyd the Palestinian BDS National Committee (BNC) released a statement calling on the "Palestine solidarity movement in the US and elsewhere to stand with the Movement for Black Lives and other Black-led organizations in their righteous struggle for justice" and advocating for "an abolitionist approach to police reform, reparation, and liberation."
The Virtual Ethnic Cleansing of Palestinians
There are numerous ways that big data companies are complicit in Israeli apartheid such as shadowbanning, developing harmful facial recognition and surveillance technologies, and erasing Palestinians from the mapping databases.
On May 5th, poet and writer Mohammed El-Kurd, a native of the Palestinian neighborhood of Sheikh Jarrah in occupied East Jerusalem received a message from Instagram informing him that his account risked deletion after he posted on-the-ground footage of settler violence tweeting "Instagram just let me know they might delete my account, because posting videos of state-sanctioned ethnic cleansing is against their community standards I guess." Mohammed El-Kurd is far from the only Palestinian rights activist in the occupied territories or abroad who has been censored by big data companies like Facebook, Instagram, Tiktok, and Twitter. Teachers, artists, activists and content creators everywhere have reported a distinct drop in engagement after sharing content critical of Israel's occupation of Palestine. The censorship these creators describe is the result of shadowbanning, a process in which the "removal or suppression of content without the platform notifying the user that their content is in violation of any community guidelines or usage rules."
The Arab Center for the Development of Social Media (7amleh) released a report titled The Attacks on Palestinian Digital Rights in which they collected 500 cases from May 6 to 18 of content and accounts being removed, reduced and restricted, hashtags hidden, and archived content deleted. At Data for Black Lives, we believe that data becomes a tool of profound social change or a weapon of political warfare — depending on whose hands it is in. In 2020, 7amleh, found that Facebook complied with "81 percent of the Israeli government's requests to remove content"— predominantly, content related to Palestine and/or critical of Israel's occupation. Systematic censorship is now being used as a weapon by big data companies to silence Palestinian voices and allow Israeli human rights abuses to continue unseen.
Big data companies are active agents in the silencing, surveilling, and erasing of Palestinians. Microsoft invested 74 million dollars in the Israeli facial recognition firm, AnyVision. AnyVision provides clients with a biometric facial recognition software, Better Tomorrow, which allows "customers to identify individuals and objects in any live camera feed, such as a security camera or a smartphone, and track targets as they move between different feeds." In 2018, the company won Israel's defense prize and was celebrated for the "large amounts of data" collected from the surveillance of Palestinians under apartheid. In 2020, Microsoft pulled its funding after a successful coalition, #DropAnyVision, called for Microsoft's divestment from these data weapons. But to this day, AnyVision facial recognition technologies trained on Palestinian data, are being deployed globally – including right here in NYC, to surveil and criminalize Black Americans.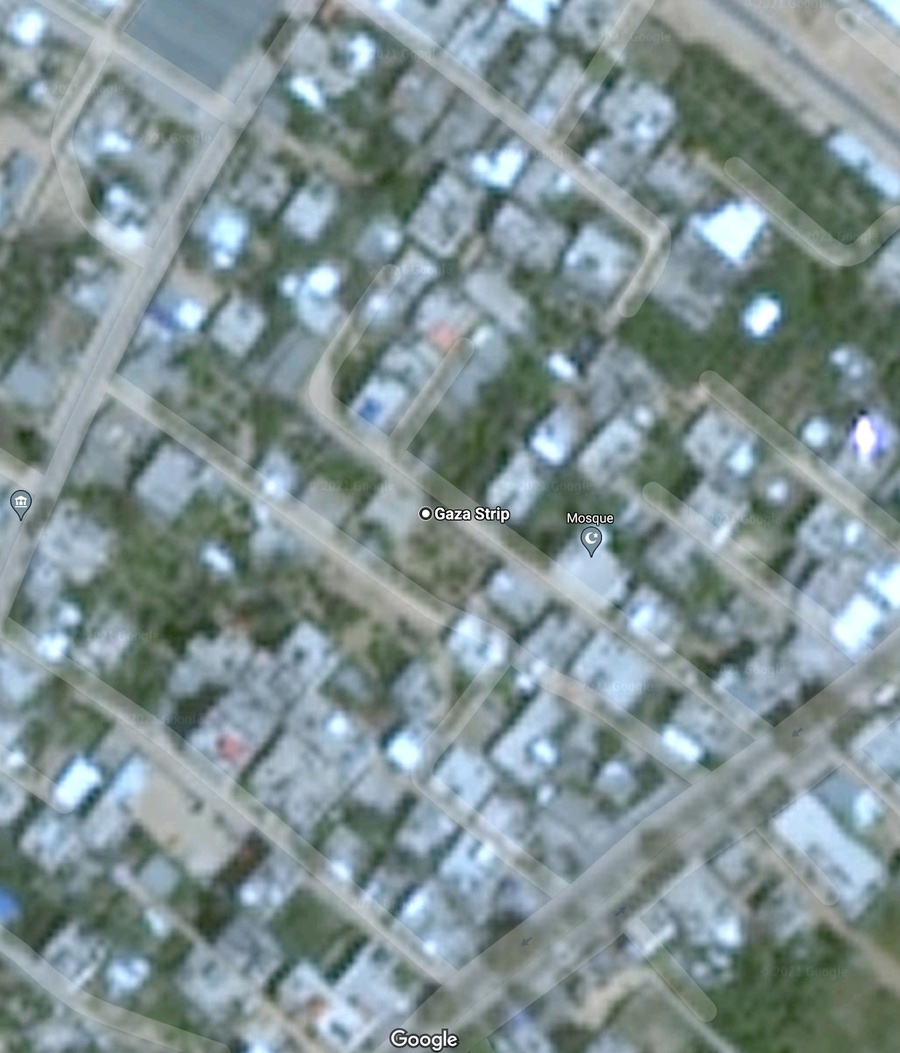 In 2016, Google came under fire for erasing Gaza and West Bank from its mapping system. Google Maps is the largest digital geographic database in the world and as digital rights advocates
7amleh
rightly state, maps "shape and legitimize certain interpretations of the physical world and the politics that underpin it." Maps are images of political space, they are not neutral but rather geopolitical artifacts that reflect the desires of powerful nation states. While illegal Israeli settlements are on the map,
Google Maps misrepresents
or does not recognize over 86 Palestinian and Bedouin villages. Further, Google Maps only allows its satellites to capture occupied Palestinian regions and Israel in
low-resolution
. In 1997, Israel lobbied the U.S congress to restrict U.S companies from collecting high resolution satellite images in Israel and the occupied territories. High-resolution satellite imagery has been used by journalists and activists to understand the damages done during times of war. Google Maps is contributing to the erasure of Palestinians and plays an important role in facilitating Israeli apartheid.
Abolish Big Data
For far too long data has been weaponized against Black communities. Atlanta, a majority Black city, has the highest concentration of surveillance systems in the country with 50 CCTV cameras per 1,000 inhabitants. In Detroit, another majority Black city, facial recognition systems, drone technologies and other forms of surveillance have been used in an ongoing effort to target, intimidate and surveil Black communities. At this very moment, our Detroit Hub is waging a historic battle to defend Detroiters against the proliferation of state and corporate-funded data weapons.
As Black people, our struggle is intimately connected with the Palestinian struggle. Surveillance technologies trained on and used against Palestinians in the illegally occupied West Bank and Gaza are the same used against Black People. The same techniques used to censor Palestinian voices are deployed by tech companies in the U.S. shaping the information landscape that we have access to on social media.
We fully understand that part of our work is not just acknowledging but is also exposing that Israeli apartheid and the dispossession of the Palestinians is enacted by and funded by US multinational corporations and US tech companies, like Google, Facebook/Instagram, Twitter, Amazon.
We at Data for Black Lives demand an end to Israeli apartheid. We firmly support Palestinians' calls for the return of the Palestinian refugees to their homeland and for their right to live in full equality.
Supporting the Palestinian struggle for decolonization is implicit to our mission as a network of scientists and activists working to make data a tool instead of a weapon in the lives of Black people. Join us to demand the end of the weaponization of data here in the US, in Palestine, and all over the world.
Learn, Educate, and Share